Clear skies above Beijing again but some fear the problem is just being pushed elsewhere
The photographs on display at Wu Dis Beijing studio imagine China and Beijing at their dystopian worst.
Naked, expectant mothers stare out from the walls, their bellies exposed but their faces hidden behind green gas masks.
Worshippers prostrate themselves around the Ming dynasty Temple of Heaven, desperately petitioning the smog-choked skies for a breath of fresh air.
But while the interior of Wus atelier offers a desolate panorama of Chinas pollution crisis, outside, a different, brighter side to the country is, for once, on show.
Beijings skies, so often noxious and smoggy, are a perfect and perplexing cerulean blue.
Its 26 today, said Wu, a visual artist and documentary photographer, checking his smartphones pollution app to confirm the uncommonly low levels of PM2.5, an airborne particulate linked to lung cancer, asthma and heart disease.
In the past, we made money first and could only talk about the environment later. But its clear the government has changed its mind, he said. We can see everything is starting to move in the right direction.
During the creation of the nightmarish airpocalypses portrayed in Wus artwork, pollution levels might have been 20 or even 30 times higher. Beijing was like a giant airport smoking room that day. It was an epic haze, he recalled, pointing to an image staged in October 2013 in which a girl appears to inhale oxygen through a tube connected to two heart-shaped balloons.
Times, though, appear to be changing.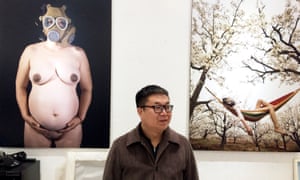 Read more: https://www.theguardian.com/world/2018/feb/22/blue-sky-thinking-how-chinas-crackdown-on-pollution-is-paying-off