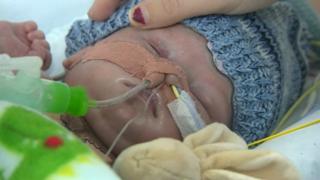 A six-month-old baby who received a new heart after a Europe-wide appeal, has died just months after his transplant.
Charlie Douthwaite was the youngest patient on the UK transplant waiting list, when he underwent nine hours of surgery in Newcastle late last year.
But despite the efforts of staff at the city's Freeman Hospital, his father Steven posted on Facebook that "our little hero gained his angel wings".
The hospital said Charlie died after a "long and brave battle" on Tuesday.
'Hard battle'
Charlie, who was born with hypoplastic left heart syndrome, had to have open heart surgery when he was three days old, after being born weighing 6lb 5oz at the Royal Victoria Infirmary in Newcastle.
He spent 10 months waiting for a new organ.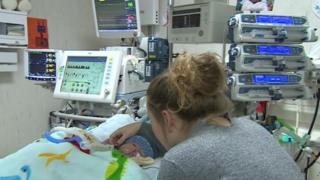 In his post Mr Douthwaite's said Charlie had died just after 23:00 BST on Tuesday.
He said: "After such a hard battle Charlie's body just had enough.
"He passed quietly and peaceful.
"Charlie baby you have no idea how many peoples hearts you touched. You have changed me for the rest of my life. I know you will be with me every day.
"I will love you forever baby. See you soon little man."
A spokesman for the Freeman Hospital said: "It is with heartfelt sadness that we confirm that baby Charlie Douthwaite has died after a long and brave battle.
"Despite months of dedicated and highly skilled care at the Freeman Hospital, Charlie was never able to go home to his devoted and loving parents and two older brothers.
"The thoughts of Charlie's Freeman 'family' are with them at this sad time."
In December it emerged Charlie had begun to reject his new heart.
After Charlie's transplant, his mother Tracie Wright said the family felt like they had "won the lottery" and that they had been give a "one-in-a-million" chance for happiness.
Read more: http://www.bbc.co.uk/news/uk-england-tyne-43567857