For the third straight November, thick toxic smog has enveloped India's capital, New Delhi, forcing schools to shut down, halting traffic and sending residents scurrying to buy air purifiers and filtration masks. United Airlines briefly suspended service to the city, the Indian Medical Association declared a public health emergency, and India's Supreme Court slapped a ban on selling fireworks ahead of Diwali, the Hindu festival of lights. Chief Minister Arvind Kejriwal, the leader of the metropolis that's home to 20 million people, has called New Delhi a "gas chamber." It's not even India's worst city for pollution.
1. What causes the smog?
Mostly it's the burning of crop stubble, which continues unabated despite being banned in the surrounding states of Punjab, Uttar Pradesh, Haryana and Rajasthan. Farmers in those regions traditionally clear their fields by burning in preparation for the winter season. Contributing to the pollution are vehicle and industrial emissions, road and construction dust, and fires lit by the poor for domestic use. Compounding the problem: The trough-like topography of the north Indian region means polluted air lingers in colder months.
2. What is the point of stubble burning?
After rice, wheat or other grain is harvested, the straw that remains is called stubble, and it must be removed before the next planting. It once was used as cattle feed, or to make cardboard, but harvesting by combine (rather than by hand) leaves 80 percent of the residue in the field as loose straw that ends up being burnt. Disposal of the stubble by means other than burning — such as plowing it into a fine layer of field cover — costs time and money, two things that farmers say they can't afford.
3. How serious is the health risk?
The World Health Organization warns that increasing air pollution in many of the world's poorest cities is driving up the risk of stroke, heart disease and lung cancer in vulnerable populations. The World Bank estimated that 1.4 million people in India died prematurely due to air pollution in 2013, the latest year for which data is available. (Pollution has worsened since then.) The most dire threat to humans is from PM 2.5, the fine, inhalable particles that lodge deep in the lungs, where they can enter the bloodstream. World Health Organization guidelines say exposure to PM 2.5 above 300 micrograms per cubic meter is hazardous. New Delhi's recent readings have exceeded 1,000, as they did last year.
4. Why not enforce the ban on burning?
Farmers are a strong electoral constituency. Getting them to change their ways is no easy task, particularly as labor shortages bite and push up the costs of removing stubble manually.
5. Does the problem end when the burning stops?
The worst of the pollution typically dissipates as spring begins, but New Delhi's air remains dirty all year. On every day in 2017, PM 2.5 readings exceeded the level deemed healthy by the WHO (up to 50 micrograms per cubic meter). And there were 39 days when readings topped 300, according to U.S. embassy data through Nov. 20.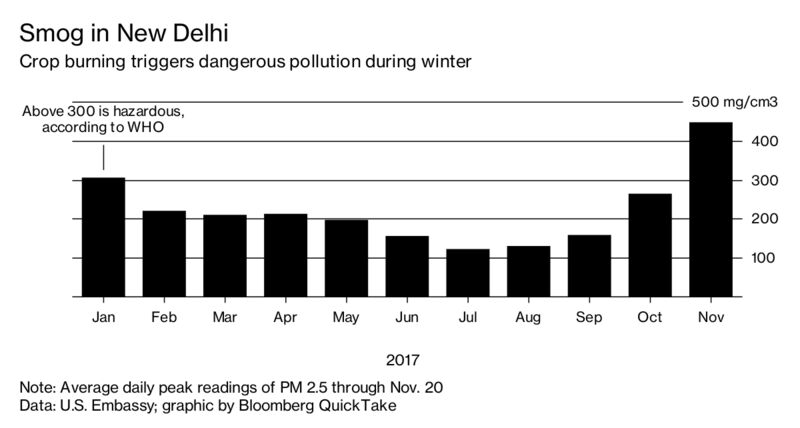 6. Then what action is India taking?
New Delhi takes temporary measures, such as restricting traffic on alternate days or attempting to prevent the burning of waste. The federal government has accelerated the timeline for stricter emission rules; oil refiners plan a 288 billion-rupee ($4.4-billion) outlay on upgrades to comply with a local equivalent of European emission standards by April 2018.
7. Why hasn't more been done?
The chaotic nature of Indian democracy doesn't lend itself to coordinated action. Unlike in China, where the one-party government has directed a concerted nationwide anti-pollution drive, India's various levels of government have failed to make meaningful progress on an issue that sprawls across political jurisdictions run by rival parties. At the same time, pollution hasn't become as important an issue at the ballot box as, say, inflation or employment.
8. Where else in India is pollution a serious problem?
India accounted for 19 of the 35 worst-polluted cities in the world, as measured by PM 2.5, in WHO's 2016 rankings. The Indian cities of Gwalior and Allahabad ranked second and third, behind only the Iranian city of Zabol, which is beset by dust storms. New Delhi, ranked 11th, was behind Saudi Arabia's Riyadh for most polluted capital city.
9. What's the impact on the economy?

The World Bank in 2013 estimated the annual cost of environmental degradation in India at $80 billion. According to a study by the Lancet Commission on Pollution and Health, pollution-related illnesses drag down productivity and reduce annual economic output by as much as 2 percent in developing economies.
10. What can India do?

To start, it could implement measures it's already approved. That means enforcing the ban on burning crop stubble, holding to stricter emissions targets for 2020 and forcing construction sites to stick to rules on creating dust. Phasing out diesel cars and adopting cleaner fuels like compressed natural gas would also help, as would strengthening the public transport system to reduce the number of vehicles on the road.
The Reference Shelf
Read more: https://www.bloomberg.com/news/articles/2017-11-23/why-november-means-unsafe-air-in-india-s-capital-quicktake-q-a