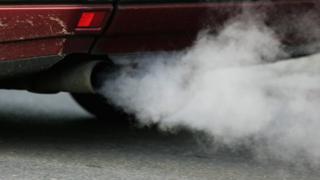 Drivers of older, more polluting vehicles will have to pay almost twice as much to drive in central London.
Mayor Sadiq Khan's £10 T-Charge, which mainly applies to diesel and petrol vehicles registered before 2006, has come into force.
It covers the same area as the existing congestion charge zone, bumping the cost to £21.50 for those affected.
Opponents said the scheme would "disproportionately penalise London's poorest drivers"
The measure is the latest attempt by Mr Khan to improve air quality in the capital.
Mr Khan, said: "London's air is a killer and is linked to asthma, strokes, heart disease and dementia.
"I refuse to be a mayor who ignores this and I am determined to take effective action to reduce the harm it does to Londoners."

What is changing?
From Monday 23 October, there will be a £10 daily fee for those who drive more polluting vehicles in the congestion charging zone, on top of the existing £11.50 congestion charge.
Vehicles which do not comply with the Euro IV exhaust standard must pay the charge.
The standard defines emissions limits for cars, vans, buses, coaches and lorries. Most vehicles registered before 2006 are likely to exceed these limits.
The zone will operate between 07:00 and 18:00, Monday to Friday.

The T-Charge is the first of a series of new rates being introduced in London.
It is due to be replaced by a stricter Ultra-Low Emission Zone in 2020, although Mr Khan is consulting on bringing this forward to 2019.
This will mean diesel cars registered before September 2015 and petrol cars registered before 2006 will face a #12.50 charge.
The mayor hopes to expand the area covered for cars and vans up to the North and South Circular roads in 2021.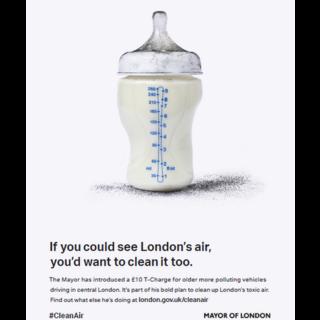 Sue Terpilowski from the Federation of Small Businesses said: "The introduction of the T-charge, comes at a time when small and micro-businesses in London are already facing astonishingly high property, employment and logistics costs.
"There is a fear that this will be the final straw that closes businesses and takes jobs."
Shaun Bailey, conservative environment spokesman at the London Assembly, said: "As an asthmatic I'm well aware of how critical an issue this is for London but we need policies that actually deliver progress.
"By boasting about a policy that so disproportionately penalises London's poorest drivers and puts jobs at risk, the mayor is simply blowing more smoke into the capital's already-polluted atmosphere."
Read more: http://www.bbc.co.uk/news/uk-england-london-41695116